About ACCO
Building Confidence in Mechanical
Design, Construction & Service
Mechanical systems are the heart of buildings. They make buildings more marketable, comfortable, and profitable. A properly designed, installed, and maintained mechanical system conserves energy, cuts absenteeism, increases productivity, and reduces tenant turnover. It can save an owner a great deal of money.
Since 1934, owners and builders have selected ACCO Engineered Systems to design, install, and maintain hundreds of thousands of mechanical projects.  ACCO is an employee-owned company dedicated to the design, fabrication, installation, maintenance and service of commercial and industrial HVAC, refrigeration, plumbing, process piping, and building automation systems.
ACCO has gained a wealth of knowledge since its founding, and has grown to be the largest and most experienced environmental firm in the Western United States, and among the top three nationwide.
Whether your project is a low or high-rise office building, a shopping mall, hospital, semi-conductor fabrication facility or pharmaceutical manufacturing plant, ACCO can design, build, install, and maintain a mechanical system to meet your needs.
ACCO has found success by evaluating overall system performance, ease of installation, reliability and long term energy consumption costs, and how these variables relate to an owner's needs.  Through innovative engineering, comprehensive design solutions, consistent work quality, and qualified maintenance; ACCO confidently delivers the best possible solution.
ACCO offers complete in-house engineering, fabrication, installation, commissioning, and service capabilities. This integrated delivery system provides customers with the most practical, cost effective solutions for their particular mechanical and control system requirements.
ACCO is licensed in the States of Arizona, California, Florida, Hawaii, Idaho, Nevada, Oregon, Utah and Washington.
ACCO's driving force is to satisfy the complex, engineered systems needs of buildings/facilities. We do this in a valued-added, cost effective one-stop shop manner by:
• Using our best in class know how to deliver customized, value-added systems at a competitive level
• Structuring exceptional value deals
• Leveraging our Project Management and delivery capability to take control, deliver with speed, and provide a single point of accountability
ACCO's Core Values
At ACCO, we are committed to our company culture and we demonstrate the core values in our dealings with each other, our customers and the general public.
We strive to demonstrate COMMITMENT and dedication to the stewardship of the company. Our employees have an individual and mutual responsibility to create highly accountable and repeatable customer experiences through the pursuit of unselfish, collective goals and by initiating action, taking responsibility, and showing humility. ACCO maintains our commitment to truly caring about and respecting each other by ensuring equality, inclusivity and diversity in the workplace.
We show INTEGRITY in the way ACCO does business and we pride ourselves on high moral and ethical behavior towards our customers, partners and colleagues. We never compromise the health and safety of our employees, customers or the public.
We maintain AUTHENTICITY and remain humble, resilient, and optimistic.
We encourage INNOVATION. We are creative and curious in providing effective solutions, while continuously striving to "raise the bar" and courageously seeking ways to improve quality, reduce cost, and increase efficiency. We trust others and are flexible, nimble, and open to a new way or direction.
We take INITIATIVE through a "hands on," "no job is too big or too small," approach. We bring a fresh mindset to the workplace through proactive, self-starting behavior, seeking solutions to problems, sharing knowledge and embracing an inquisitive attitude, because every success starts with an idea.
We believe in COLLABORATION and the power of working together. We leverage the knowledge of others, respect differences in opinion, and support each other to achieve common goals.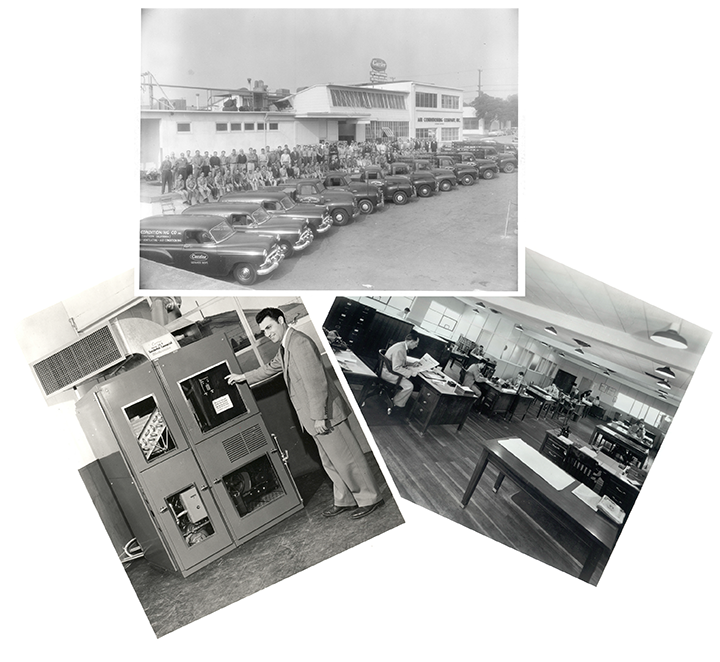 ACCO History
ACCO Engineered Systems was founded in 1934 as Air Conditioning Company (ACCO), a proprietorship, by Ira Prentiss Fulmor at 1005 Santa Fe Street, Los Angeles. The former name of the company was chosen to indicate what the company did because few people knew about air conditioning. In 1949, the business moved from downtown Los Angeles to Glendale where it transformed from an air conditioning distributor to become an independent corporation.  After 70 years in Glendale, ACCO moved to its headquarters to 888 East Walnut Street in Pasadena.  Jeffrey Marrs became ACCO's fifth President & CEO in 2016.
Over the years ACCO has expanded its leadership role in the design, installation, and service of industrial, commercial, high-rise, residential, and institutional air conditioning, heating, ventilation, plumbing, process piping, electrical and DDC control systems. ACCO's name was changed in 2002 to ACCO Engineered Systems to better reflect the many aspects of its business. A national trade publication has consistently ranked ACCO among the 3 largest heating, ventilating, and air conditioning contractors in the nation. The company, including its subsidiaries, has an average of 3,000 employees, and offices and manufacturing campuses that occupy more than 20 acres, spanning 32 locations.
ACCO's mechanical systems occupy facilities in a wide variety of industries, including commercial office space, biopharmaceutical R&D, semi-conductor, micro-electronics, medical/healthcare centers, manufacturing plants, entertainment, retail, telecommunications, education, data centers, and high-rise residential.
ACCO has completed work in Arizona, California, Colorado, Florida, Hawaii, Illinois, Louisiana, Maryland, Michigan, Nevada, New Jersey, New Mexico, Oregon, Tennessee, Texas, Utah, Virginia, Washington, Washington, D.C. and Mexico.