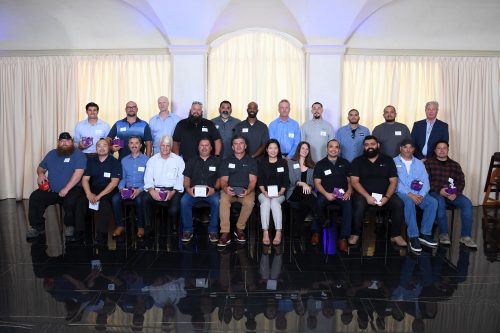 PASADENA, Calif., Nov. 3, 2022 – ACCO recognized 119 employees in two Regional Service Awards Watch Ceremonies held recently in Oakland and Pasadena, California respectively for years of service to the company. The company recognized 73 employees on Tuesday, August at Scott's Seafood Grill & Bar in Oakland and 46 employees on Thursday, September 1, at Noor in Pasadena, CA for achieving 10, 25 and 40 years of service with the company.
"ACCO is a great company to work for and grow and that is why I have stayed here for so long," said Rick Riley, Vice President Construction Operations, who was the sole 40-year award recipient at the ceremony in the Southern Region. "I did not think I would have worked here for so long. I thought I would have retired already and now I feel like I can stay 10 more years."
In the Northern Region, ACCO also recognized Project Managers George Dimic and Stephen Glatt, both of whom work out of the San Leandro office, for 40 years of service. For Dimic, 40 years has provided him with a bird's eye view of ACCO's growth and the awards ceremony made quite an impression on him.
"There is tremendous pride in being part of, and observing, the phenomenal growth of ACCO," Dimic said. Along the way, there was the support and encouragement to tackle new challenges, opportunities and shared rewards so unique to ACCO. The recognition of the 40-year service with so many dear and respected friends will be a lasting memory."
President and CEO Jeff Marrs was the master of ceremonies for the Southern Region. In his opening remarks, Jeff shared how the tradition came about and why it was important to keep this tradition going.
"The watch ceremony is more than just an employee receiving a watch," Marrs said. "It shows the dedication, commitment and loyalty of the employees who chose ACCO as part of their life journey for 10 years or more. It shows that these employees are part of something greater than themselves, giving a third or more of their days to investing in the growth of ACCO."