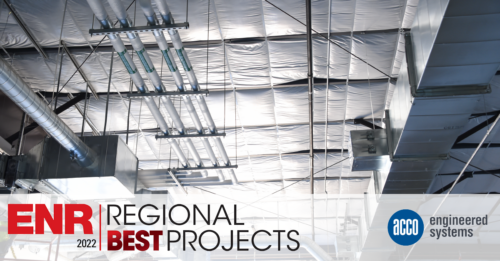 PASADENA, Calif., Sept. 7, 2022 – Engineering News-Record (ENR-CA) California recently announced the 2022 Regional Best Projects winners. ACCO was a member of the project teams for four of the winning projects.
The four projects and their categories follow below:
Best Higher Education/Research (North): The WELL Expansion and Renovation
Owner: California State University, Sacramento
General Contractor: Swinerton Builders
Architect: HMC Architects
Located at California State University, Sacramento, the WELL provides whole-health care for 28,000 students and 3,400 faculty and staff through a broad spectrum of health, wellness, and medical amenities and service. The WELL expansion project added square footage and renovated current spaces in both the Campus Recreation and Student Health and Counseling areas. The existing building is Type IB and is a certified LEED Gold building with expansion components designed for LEED Gold certification.
Best Office/Retail/Mixed Use (North): 415 Natoma
Owner: Brookfield Properties
General Contractor: Swinerton Builders
Architect: House & Robertson Architects and Kohn Pedersen Fox Associates
The 648,000 square-foot Class A office is located in Downtown San Francisco within the 5M development. The tower consists of 25 floors of office space, two underground parking floors and ground-level retail spaces. ACCO served as the mechanical engineer of record and mechanical subcontractor to deliver a full central plant with cooling towers, chillers, boilers and water-cooled/heated dedicated outdoor air system (DOAS) units. The building is both LEED Gold and WELL Health and Safety certified.
Best Government/Public Building and Excellence in Sustainability (South): Department of General Services California Aire Resources Board – Mary D. Nichols Campus
Owner: Department of General Services
General Contractor: Hensel Phelps
Architect: ZGF Architects
The 380,000 square-foot, three-story facility is one of the largest, most advanced vehicle emissions testing and research facilities in the world. It is also the largest true net zero energy facility of its type. ACCO delivered a state-of-the-art mechanical system as the design-build mechanical contractor with Affiliated Engineers (AEI). The mechanical system includes critical building functions and meets LEED Platinum and Net Zero Energy compliance. ACCO provided leadership and building information modeling (BIM) management services to assist the team in meeting the schedule goals.
Best Manufacturing (South): Theragent CDMO Facility
Owner: Theragent, Inc.
General Contractor: DPR Construction
Architect: Lionakis
The 26,000 square-foot warehouse utilized an existing structure to create a new contract development manufacturing organization facility, located in Arcadia, California. Theragent dedicated the facility to manufacturing cell and gene therapies for cancer patients. ACCO performed the non-cleanroom HVAC and plumbing, as well as the installation of sheet metal and equipment for the cleanroom work. AES Clean Technology designed the cleanroom work.