Benefits
Here at ACCO, we believe that the excellence we deliver to our customers depends on the talent that we hire and develop into the most successful in the industry. Our commitment to our employees is to provide quality benefits that support your life both inside and outside of the workplace.
Health and Wellness Benefits
Medical Plans: Aetna & Kaiser
Flexible Spending Accounts
Delta Dental Plans
VSP Voluntary Vision Plans
Well-Being Program
Modern Health Mental Health Support
Time Off and Work-Life Benefits
PTO, Sick Leave, Paid Holidays
Term life and AD&D Insurance
Disability Income Protection Insurance
Voluntary Life Insurance
Sick and Life Events Leave
Financial Benefits
401(k)
Employee Stock Ownership Program (ESOP)
Transportation Spending Accounts
Rideshare Incentives Program
AIRCO Credit Union
Perks and Additional Benefits
Education Reimbursement Program
Employee Assistance Program
Voluntary Legal Plan
Voluntary Identity Protection
Voluntary Pet Insurance
Voluntary Auto & Home Insurance
To get the full benefits breakdown you can check out our Benefits at a Glance.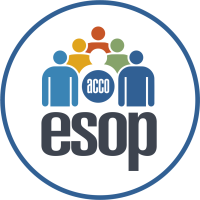 Employee Stock Ownership Program (ESOP)
An Employee Stock Ownership Plan (ESOP) is a tax-qualified employee benefit plan governed by U.S. law. An ESOP is a defined contribution retirement plan (like a Profit Sharing or 401(k) Plan) designed to hold company stock and provide eligible employees with benefits when they retire or leave the company. ACCO's ESOP is a free benefit available to all non-signatory employees of the company and its subsidiaries that meet the eligibility requirements. As an ACCO ESOP participant, you have a unique chance to contribute to the growth of the company AND influence the value of your retirement savings.
A 401(k) plan and an ESOP are both retirement plans, however, there are some key differences between the two. Here is a comparison of some aspects of each plan: