March 22, 2020
Dear ACCO Customers, Vendors and Business Partners:
ACCO Engineered Systems continues to closely monitor the evolving Coronavirus (COVID-19) situation and has been taking precautions in response to this pandemic with the safety and protection of our employees, customers, vendors and partners and they are at the forefront of our actions. We provide Construction Services and are considered an "Essential Service" provider for the following trades: HVAC, electrical, plumbing, process piping, refinery piping, service technician and controls in both construction and facility service activities.
ACCO's operations have been impacted on varying levels throughout California, Washington, Nevada, Oregon and Idaho. Each State, County and some Cities have new, varying and evolving Public Health Orders that change daily. Employees have been informed how to respond to each of these Orders on a City and County basis.
City and County health orders that are more stringent than a particular State's will be followed by ACCO. There is differing interpretation of "Essential" in many of the Public Health Orders and in the construction industry in general of what is truly essential.
It is each employee's decision and right as to whether they are willing to come to work. Should an employee decide to not come to work, we will be understanding and compassionate and will welcome their return to work at a later time.
While we made the decision to limit access to our California, Washington and Idaho office locations, our service technicians, sheet metal, plumbing and piping field/shop labor, systems operations, service and controls technicians remain available to support "Essential Businesses." Each jurisdiction has differing definitions of "Essential Business" and these projects are being evaluated on a case-by-case basis including cash flow considerations. Essential services aside, we will staff ONLY projects that have the proper safety work procedures, proper social distancing viability, and sanitation among other safety mandates.
We have taken additional steps to inform our employees about the Coronavirus and protect them from exposure to the virus, as our goal remains health and safety first:
We have created an ACCO intranet to house all communications that employees can access easily and centrally.
Office-to-office visits are no longer allowed, unless the visit is critical to ACCO's business operations.
Inter-region travel, even by car, is also now restricted as of Monday, March 16, 2020.
Employees who regularly use public transportation (busses, BART, LA Metro, and other public transportation methods) are discouraged from using these commute methods if they are not able to telework since 'social distancing' is not generally possible.
Visitors are restricted in offices. Only visitors who are essential for business (e.g., mail or supply delivery, security, repair services, cleaning services) are allowed entrance.
Given the fluid nature of this pandemic, we know our situation could continue to change with very little notice. Despite that possibility, there are steps that we can continue to take to help prevent the spread of this virus and I want to provide you with an update on how we at ACCO are addressing the challenges of COVID-19.
On February 10, ACCO shared steps that the U.S. Center for Disease Control (CDC) recommended with our office and field workforce that if taken, will help to keep their coworkers and the other stakeholders (including you) healthy and COVID-19 free. We also directed our employees to eliminate in-person meetings and take advantage of Zoom and other meeting alternatives. Since that first communique, we have sent weekly reminders and updates, often daily to our employees and have responsibly taken additional preventive steps:
Preventive Measures We are Taking to Reduce Exposure to COVID-19:
Stay Home – As of Monday March 23, 2020 all office employees are to work from home, except those that need to make occasional trips into the office to support  essential business related activities.
Feeling Sick – Employees who have early symptoms of illness, including cold or flu-like symptoms, are to stay home until symptoms have subsided. These symptoms include (but not limited to) fever (a temperature of 100.4°F or greater), congestion, sore throat, nausea, overall achiness, cough, shortness of breath, etc.
Go Home – Employees in the office who become sick during the day, are being instructed to go home.
Cover your cough or sneeze – Employees are asked to cover their mouth and nose when coughing or sneezing by using a tissue, their elbow or shoulder.
Wash your hands and/or sanitize frequently – Wash or sanitize hands and high touch surfaces frequently (e.g. door handles, computer keyboard, mouse, desk phone, smartphone and car/household keys). Use soap and wash hands for at least 20 seconds or use sanitizer with at least 60% alcohol.
Do not touch – Use a tissue when touching door handles and other surfaces in common areas.
Avoid touching your face – Avoid touching face, eyes, nose and mouth.
Discontinue handshakes – Discontinue handshakes during this period.
Report an exposure – If an employee has been in close proximity, or in contact, with someone who has a confirmed case of COVID-19, he/she must report this immediately to the Vice President of Human Resources and to his/her manager.
Practice Social Distancing – Maintain six feet separation from each other.
Business Travel Restrictions Implemented:
Personal International Travel – All employees who have traveled internationally in the past 30 days, or planned to travel internationally, are required to inform Human Resources for tracking and monitoring purposes. Furthermore, employees returning from a country identified by the CDC to have a Travel to Health Notice Advisory countries of Level 2 or 3, or any cruise ship, are directed to stay at home for 14 days and return only when symptom free and released by the Vice President of Human Resources.
Business Travel – Business-related air travel is now banned and will resume only at such time that it is safe and that Health orders in State's and counties are lifted.
Safety Actions Taken:
Job Hazard Analysis (JHA) – We developed a JHA for construction and facility service work for low, medium and high-risk project situations to ensure proper use of personal protective equipment (PPE) and hygiene etiquette described earlier.
Site Specific JHA – For all projects deemed high risk, a site specific JHA is prepared via our safety dept.
PPE – ACCO employees can only go to work when there is proper PPE for the work environment. If PPE is not available, employees are directed to stop work and wait for direction.
Safety Inspections – We are conducting safety inspections at construction sites to ensure appropriate hand-wash facilities are available to our construction field crews.
Sanitizers – We distributed hand sanitizer stations to all offices and manufacturing facilities.
Gatherings – Only as allowed by Public Health Notices
a. Large internal ACCO meetings are postponed or canceled until further notice.
b. For small group gatherings and meetings, social distancing (6ft) is being practiced.
c. Unnecessary visits to office locations and job sites from external parties are prohibited.
Non-Compliant Projects – ACCO will only perform work at jobsites where there is a customer provided JHA for the jobsite that addresses procedures for the recommended CDC guidelines for social distancing and sanitization. Should the jobsite not practice proper procedures, ACCO personnel will return when compliant.
Exposure Evaluation Procedures:
Potential or actual exposures – Employees are to report all exposures or potential exposures immediately to their manager and the Vice President of Human Resources. We will thoroughly investigate these exposures. Those determined to have likely (or definite) exposure will be asked to go home for 14 days. After 14 days, they may return to work if they are symptom free and the V.P. of Human Resources releases them.
We will report any exposure that affects our customers, vendors, suppliers or any other entity as soon as possible.
Supply Chain Concerns:
We are actively working with our suppliers to maintain adequate stock levels in order to ensure business continuity. This includes PPE, raw materials and supplies. PPE masks are in short supply and will limit our ability to provide services in some areas at this time.
We are currently experiencing several supply chain challenges. Please contact your ACCO representative to know more as this is a fluid situation.
We will continue to be proactive in our monitoring and employ a responsible approach to preventing the spread of COVID-19 and to keep our stakeholders safe. We are committed to keeping our business operational and will communicate with our stakeholders and customers if anything changes. For up-to-date information on our COVID-19 response, please visit https://www.accoes.com/covid-19. If you have any questions or comments, please contact Carlton Seyforth, ACCO's Director of Risk at cseyforth@accoes.com, or your point of contact at ACCO.
Sincerely,
Jeff Marrs
President and CEO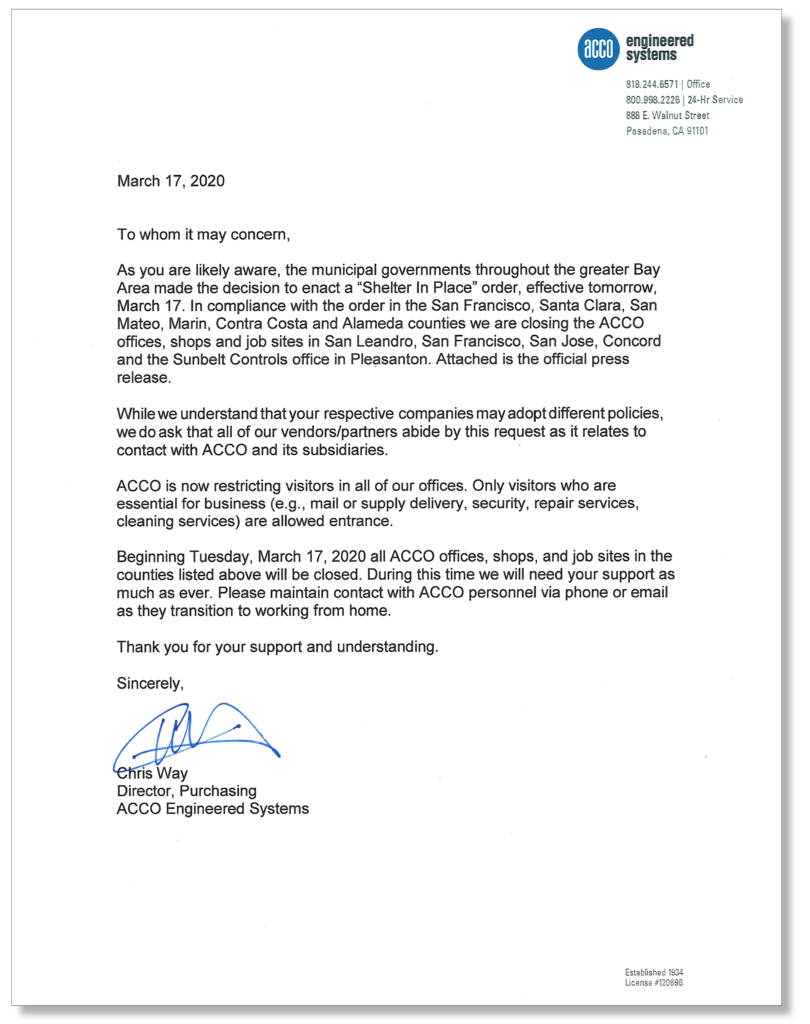 The following is our comprehensive FAQs that have been distributed to all ACCO employees, and will continue to be updated and distributed as we monitor the current situation.  We are sharing this in hopes that it might be helpful to others, as well.
Q1. What is COVID-19?
COVID-19 is a virus in the coronavirus family that also causes MERS, SARS, and even the common cold. Patients with confirmed COVID-19 infection have reportedly had mild to severe respiratory illness with symptoms of fever, cough, and shortness of breath. More information about COVID-19 is available on the World Health Organization's (WHO) website or the U.S. Centers for Disease Control (CDC) website .
Q2. What should I do if I feel sick, but do not know yet if I have COVID-19?
a) If you are ill, you are to stay home and use your sick time.
b) Seek medical guidance. Call or email your health care professional or medical plan carrier. Be prepared to share specific information about the onset of symptoms, and any other information associated with your situation. Consider using your carrier's 24/7 health advice line, a virtual or e-visit, urgent care, or other services available and suggested by your health carrier and health care provider. Your provider will determine whether a COVID test is appropriate.
Q3. What should I do if I test positive for COVID-19?
Report this information immediately to the VP of Human Resources, the Leave of Absence email address, and your manager. Then follow your healthcare provider's instructions, and do not return to the workplace until you are symptom-free for 24 hours or more.
Q4. What do I do if I find out I have been in contact with someone who has, or is suspected of having, COVID-19 or with someone who has recently traveled to China, South Korea, Italy, Japan, or Iran?
a) Report this to your manager immediately. Your manager should report this to the VP of Human Resources, immediately.
b) Please follow all medical guidance provided by the WHO and CDC. Contact your health care provider if you develop symptoms that might be related to COVID-19, such as a cough, sore throat, difficulty breathing, and fever.
c) Encourage those with whom you have been in contact to do the same.
d) You will need to work with your manager and HR Business Partner to find alternative work arrangements for at least 14 days before returning to your workplace.
Q5. I am not sick, but can I telework/work from home anyway?
If an employee has underlying medical conditions that raise his/her health risk, or other household situations that necessitate telework, these should be discussed with one's manager and HR Business Partner. Some jobs are temporarily adaptive to telework, and some are not. Considerations will be given on an individualized basis.
Q6. Can I wear a surgical or respiratory mask at work?
You are free to wear a face mask or respiratory mask, however experts say that many face masks are inadequate and do not prevent exposure to bacteria and viruses. Any facemask may not be used in place of required PPE.
Q7. Is business travel restricted?
Yes, at this time, air travel should be limited to only what is essential to the business. Alternatives such as Zoom meetings, conference calls, other virtual meeting platforms or forms of communication may be reasonable alternatives, and should be used.
Q8. Should I ask interview candidates, vendors, consultants or other visitors if they have been to China, South Korea, Japan, Northern Italy, or Iran within the past 14 days before they visit one of our locations?
Yes, to reduce the possibility of exposure, anyone invited or scheduled to visit one of our offices should be asked the following questions:
a) Have they returned from travel to China, South Korea, Japan, Northern Italy, or Iran within the previous 14 days?
b) Have they been in close contact with anyone who returned from China, South Korea, Japan, Northern Italy, or Iran within the previous 14 days?
c) Have they been in close contact with someone who has tested positive for the COVID-19 virus?
If the answer is yes to any of these questions, other arrangements should be made, which may include phone calls, video/Zoom meetings, or delayed meetings. Managers and recruiting team members will work together to coordinate communication and interview arrangements.
Q9. If I travel to a low/no risk country, do I have to report my travel plans?
Yes, the risk level within any country can change very quickly; therefore, all travel outside of the United States must be reported to your manager and the Leave of Absence email address.
Q10. If I am traveling internationally, what do I need to be prepared for upon my return?
Because the worldwide situation is changing rapidly, the risk level within any country can change very quickly.
a) The day before returning to your regular workplace, you must obtain clearance from the the VP of Human Resources.
b) If are required to delay your return to the workplace for 14 days, and are not ill, you will be expected to work from home. If you are not able to do so, you may use vacation time or personal days during this time.
c) If you are restricted local or U.S. government from returning to the U.S. as scheduled, you may use vacation time or personal days.
d) Notify the Leave of Absence email address and your manager of either of these situations.
Q11. If I am required to delay my return to my workplace for 14 days following international travel, do I need a doctor's note in order to return?
If you are free of symptoms at the end of the 14-day period, you are not required to obtain a doctor's note to return to work. If you have any flu, fever, or cold symptoms, you will need to provide a doctor's confirmation that you are negative for COVID-19 before returning to the workplace.