June 15, 2020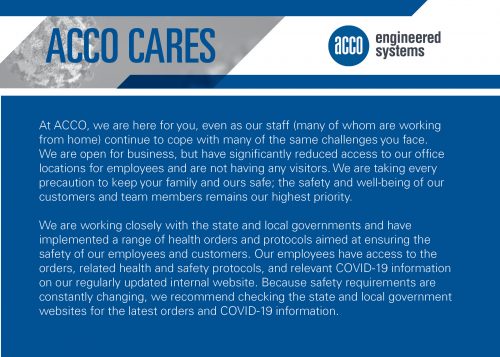 May 6, 2020
Dear ACCO Customers, Vendors and Business Partners:
ACCO Engineered Systems continues to take precautions in response to COVID-19 with the safety and protection of our employees, customers, vendors, business partners and the public are at the forefront of our actions.
ACCO's operations have been impacted by COVID-19 on varying levels throughout California, Washington, Nevada, Oregon and Idaho as each state, county and some cities have new, varying and continuously evolving Public Health Orders. We provide construction services and are considered an "Essential Business" provider in all jurisdictions for the following trades: HVAC, electrical, plumbing, process piping, refrigeration, refinery piping, service technician and controls in both construction and facility service activities. As a result, many of our employees have continued to work at various locations and job sites following whichever health order is the most stringent in the jurisdictions we operate. We decided that we would staff ONLY projects that have the proper safety work procedures, proper social distancing viability and sanitation among other safety mandates.
At the onset of the pandemic, we made it clear to our employees that they had an individual right to choose whether they were willing to continue working given the many uncertainties surrounding COVID-19. We explained that we would be understanding and compassionate with those who decided not to come to work and would welcome their return to work at a later time. We have a responsibility to ensure that those employees who continued to work were able to do so safely and have taken a number of measures over time to educate and protect them from COVID-19. We understand that by safeguarding our employees' health, we are also ensuring the health and wellbeing of our employees' families, the customers they serve, and by extension, the general public.
In a previous letter that was updated on March 22, I shared ACCO's initial response to the COVID-19 pandemic. To see the full response, click here.
Since this last update, we have taken additional steps to inform our employees about the COVID-19 and protect them from exposure to the virus, as the health and safety of our employees remains paramount. I wanted to share some of the additional steps we have taken:
Education and Awareness Measures: We created a companywide Playbook to help reduce employee exposure to COVID-19 and held accompanying briefing sessions to guide management on how to handle various COVID-19 scenarios. To heighten awareness, we distributed Safety Flashes, provided safety training/awareness via tailgate meetings and even participated in a statewide Safety Stand-down.
Monitoring and Evaluation: We implemented an employee questionnaire to help assess employee exposure and developed a system for assessing, classifying, tracking, responding to and notification of potential COVID-19 exposures. We created a process to evaluate job sites that have elevated risks for COVID-19 and implemented job hazard analysis (JHA) at all sites. Similarly, we implemented a process to sanitize all tools and equipment and provided laminated instruction sheets with CDC guidelines for cleaning surfaces at all projects. At fabrication shops and some site locations, we implemented touchless temperature scanning.
Personal Protective Equipment (PPE): We purchased facemasks and shields to mitigate potential COVID-19 exposure and additional sanitizers and disinfectant for employee use. To ensure we have adequate levels of PPE and safety equipment at all locations, we implemented a product request system utilizing 14 supply chain hubs to streamline requests.
Regardless of the steps that we have taken and the various Shelter-in-Place (SIP) and Safer-at-Home (SAH) orders that are in place, the exposure to COVID-19 continues to be a risk and all ACCO office employees continue to telework until further notice. Recently, counties in the Bay Area (Alameda, Contra Costa, Marin, Sacramento, San Francisco, San Mateo, and Santa Clara) extended their SIP and SAH orders until the end of May. With these extensions, it is likely that other cities and counties will follow suit and have different timelines.
We are not in a rush to return to the office, but are in the planning stages to develop a "Return to Office" plan, which outlines new standard operating procedures that we will practice once we are able to return to the office.
On the supply chain side, we see that employee unavailability resulting from COVID-19 is starting to impact manufacturers. There has been an increase in the number of product delays, increase in lead times required for delivery and even some closures. We continue to work closely with our suppliers to maintain adequate stock levels to ensure business continuity as best as we can to ensure timely completion of our projects.
We will continue to proactively monitor and be responsible in our approach to preventing the spread of COVID-19. We are committed to keeping our business operational and, if anything changes, we will communicate to you any changes. For up-to-date information on our COVID-19 response, please visit https://www.accoes.com/covid-19. If you have any questions or comments, please contact Carlton Seyforth, ACCO's Director of Risk at cseyforth@accoes.com, or your point of contact at ACCO.
Sincerely,
Jeff Marrs
President and CEO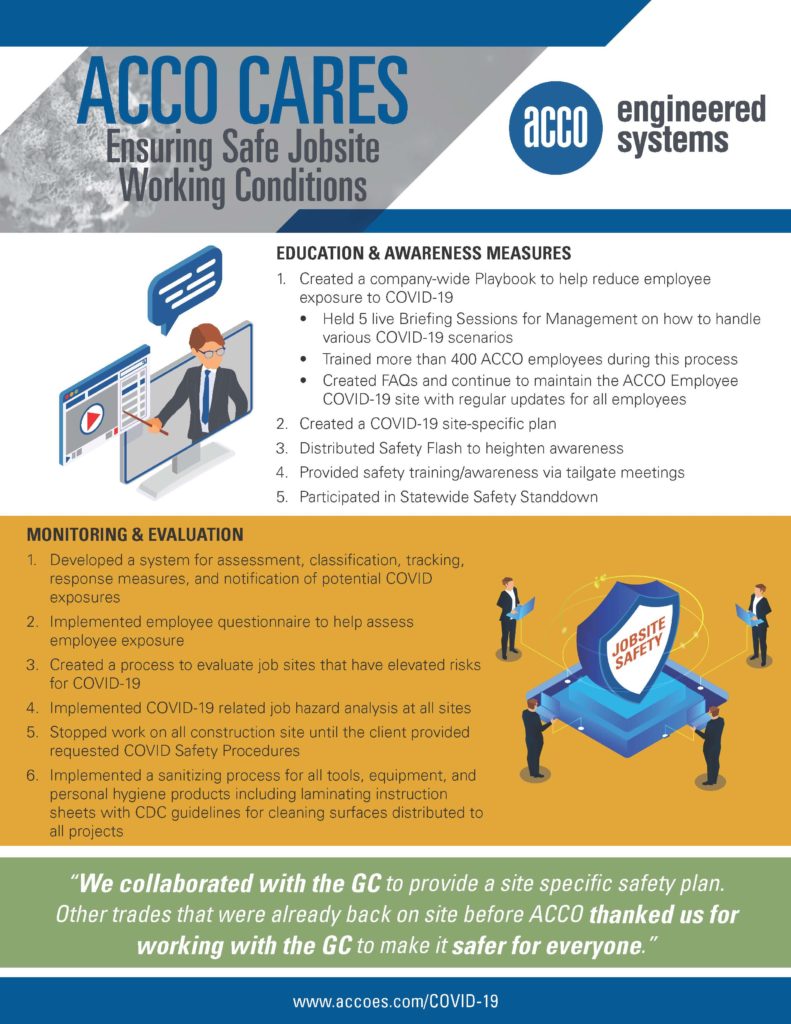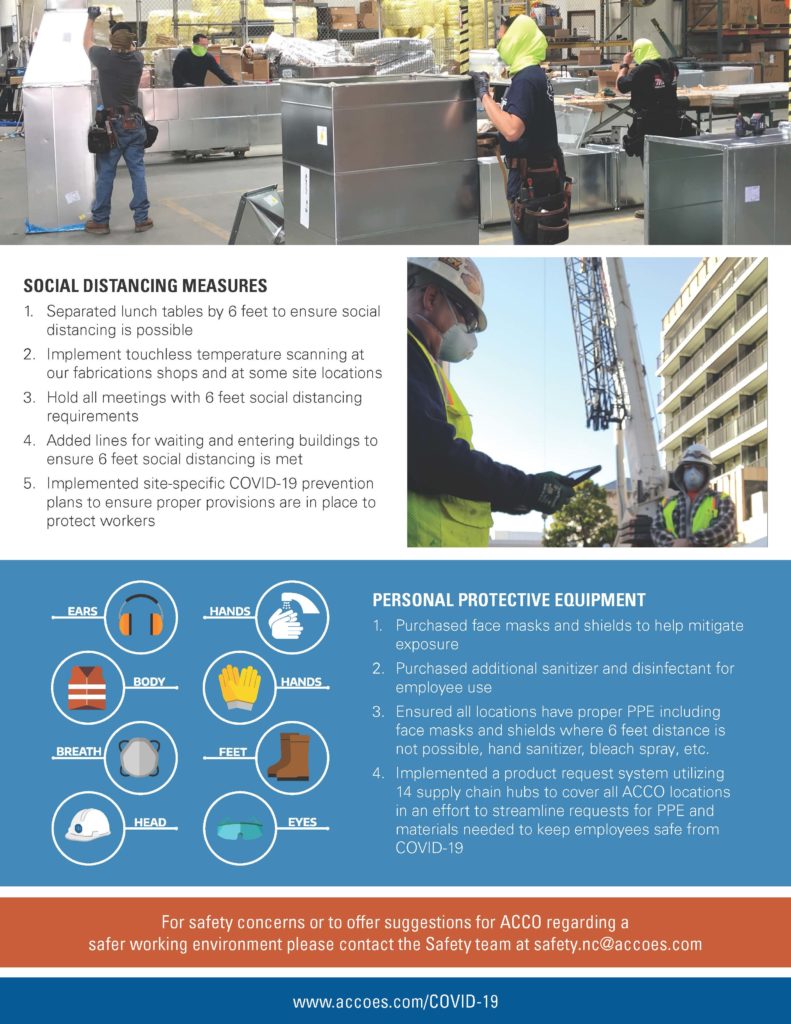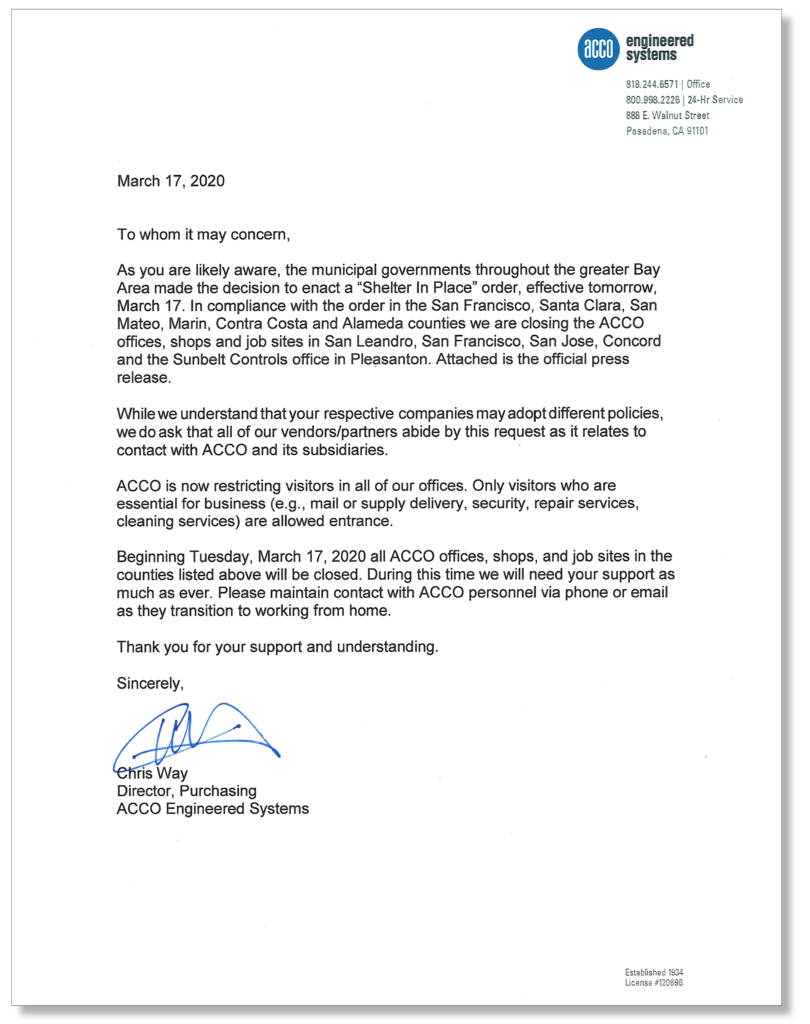 The following is our comprehensive FAQs that have been distributed to all ACCO employees, and will continue to be updated and distributed as we monitor the current situation.  We are sharing this in hopes that it might be helpful to others, as well.
Q1. What is COVID-19?
COVID-19 is a virus in the coronavirus family that also causes MERS, SARS, and even the common cold. Patients with confirmed COVID-19 infection have reportedly had mild to severe respiratory illness with symptoms of fever, cough, and shortness of breath. More information about COVID-19 is available on the World Health Organization's (WHO) website or the U.S. Centers for Disease Control (CDC) website .
Q2. What should I do if I feel sick, but do not know yet if I have COVID-19?
a) If you are ill, you are to stay home and use your sick time.
b) Seek medical guidance. Call or email your health care professional or medical plan carrier. Be prepared to share specific information about the onset of symptoms, and any other information associated with your situation. Consider using your carrier's 24/7 health advice line, a virtual or e-visit, urgent care, or other services available and suggested by your health carrier and health care provider. Your provider will determine whether a COVID test is appropriate.
Q3. What should I do if I test positive for COVID-19?
Report this information immediately to the VP of Human Resources, the Leave of Absence email address, and your manager. Then follow your healthcare provider's instructions, and do not return to the workplace until you are symptom-free for 24 hours or more.
Q4. What do I do if I find out I have been in contact with someone who has, or is suspected of having, COVID-19 or with someone who has recently traveled to China, South Korea, Italy, Japan, or Iran?
a) Report this to your manager immediately. Your manager should report this to the VP of Human Resources, immediately.
b) Please follow all medical guidance provided by the WHO and CDC. Contact your health care provider if you develop symptoms that might be related to COVID-19, such as a cough, sore throat, difficulty breathing, and fever.
c) Encourage those with whom you have been in contact to do the same.
d) You will need to work with your manager and HR Business Partner to find alternative work arrangements for at least 14 days before returning to your workplace.
Q5. I am not sick, but can I telework/work from home anyway?
If an employee has underlying medical conditions that raise his/her health risk, or other household situations that necessitate telework, these should be discussed with one's manager and HR Business Partner. Some jobs are temporarily adaptive to telework, and some are not. Considerations will be given on an individualized basis.
Q6. Can I wear a surgical or respiratory mask at work?
You are free to wear a face mask or respiratory mask, however experts say that many face masks are inadequate and do not prevent exposure to bacteria and viruses. Any facemask may not be used in place of required PPE.
Q7. Is business travel restricted?
Yes, at this time, air travel should be limited to only what is essential to the business. Alternatives such as Zoom meetings, conference calls, other virtual meeting platforms or forms of communication may be reasonable alternatives, and should be used.
Q8. Should I ask interview candidates, vendors, consultants or other visitors if they have been to China, South Korea, Japan, Northern Italy, or Iran within the past 14 days before they visit one of our locations?
Yes, to reduce the possibility of exposure, anyone invited or scheduled to visit one of our offices should be asked the following questions:
a) Have they returned from travel to China, South Korea, Japan, Northern Italy, or Iran within the previous 14 days?
b) Have they been in close contact with anyone who returned from China, South Korea, Japan, Northern Italy, or Iran within the previous 14 days?
c) Have they been in close contact with someone who has tested positive for the COVID-19 virus?
If the answer is yes to any of these questions, other arrangements should be made, which may include phone calls, video/Zoom meetings, or delayed meetings. Managers and recruiting team members will work together to coordinate communication and interview arrangements.
Q9. If I travel to a low/no risk country, do I have to report my travel plans?
Yes, the risk level within any country can change very quickly; therefore, all travel outside of the United States must be reported to your manager and the Leave of Absence email address.
Q10. If I am traveling internationally, what do I need to be prepared for upon my return?
Because the worldwide situation is changing rapidly, the risk level within any country can change very quickly.
a) The day before returning to your regular workplace, you must obtain clearance from the the VP of Human Resources.
b) If are required to delay your return to the workplace for 14 days, and are not ill, you will be expected to work from home. If you are not able to do so, you may use vacation time or personal days during this time.
c) If you are restricted local or U.S. government from returning to the U.S. as scheduled, you may use vacation time or personal days.
d) Notify the Leave of Absence email address and your manager of either of these situations.
Q11. If I am required to delay my return to my workplace for 14 days following international travel, do I need a doctor's note in order to return?
If you are free of symptoms at the end of the 14-day period, you are not required to obtain a doctor's note to return to work. If you have any flu, fever, or cold symptoms, you will need to provide a doctor's confirmation that you are negative for COVID-19 before returning to the workplace.