August 20, 2021
Dear ACCO Customers, Vendors and Business Partners:
At ACCO, we continue to be here for you as we all continue to navigate the challenges brought on by COVID-19. Throughout the pandemic, we have remained open for business as our field employees never stopped working, and most of our office staff worked from home.
From the onset of the pandemic, we made it clear to our employees that we have a responsibility to ensure that they are able to work in a safe environment. In order to do so, we educated our employees on effective risk mitigation tactics and took measures over time to protect them from COVID-19. For example:
We worked closely with the state and local government in all the municipalities we serve and implemented a range of constantly evolving health orders and safety protocols.
We created a dynamic COVID-19 information site where we posted relevant information and related health and safety protocols that are accessible to our employees 24/7.
We significantly reduced access to our office locations for our employees and do not allow in-office visitors.
As we continue to live our lives in this new world where the virus remains ever-present, we have meticulously planned a "Return to Office" approach with new standard operating procedures to ensure the health and safety of our employees. Where practical, we have welcomed some of our staff back to offices at partial occupancy and are encouraged by the feedback received so far. With the availability of vaccines, we have also been able to continue working at jobsites where customers have required vaccinations as a prerequisite for entry.
We continue to adhere to the guidelines and requirements set forth by the municipalities in which we do business, and are proactively monitoring the prevalence of cases in order to inform our strategy on a daily basis. By safeguarding our employees' health, we are confident that we will be able to continue to deliver for our customers. Furthermore, we believe that keeping our employees safe also ensures the health and wellbeing of their families, our customers and the public at large.
If you have any questions or comments, please contact Carlton Seyforth, ACCO's Director of Risk, at cseyforth@accoes.com, or your immediate point of contact at ACCO.
Jeff Marrs
President and CEO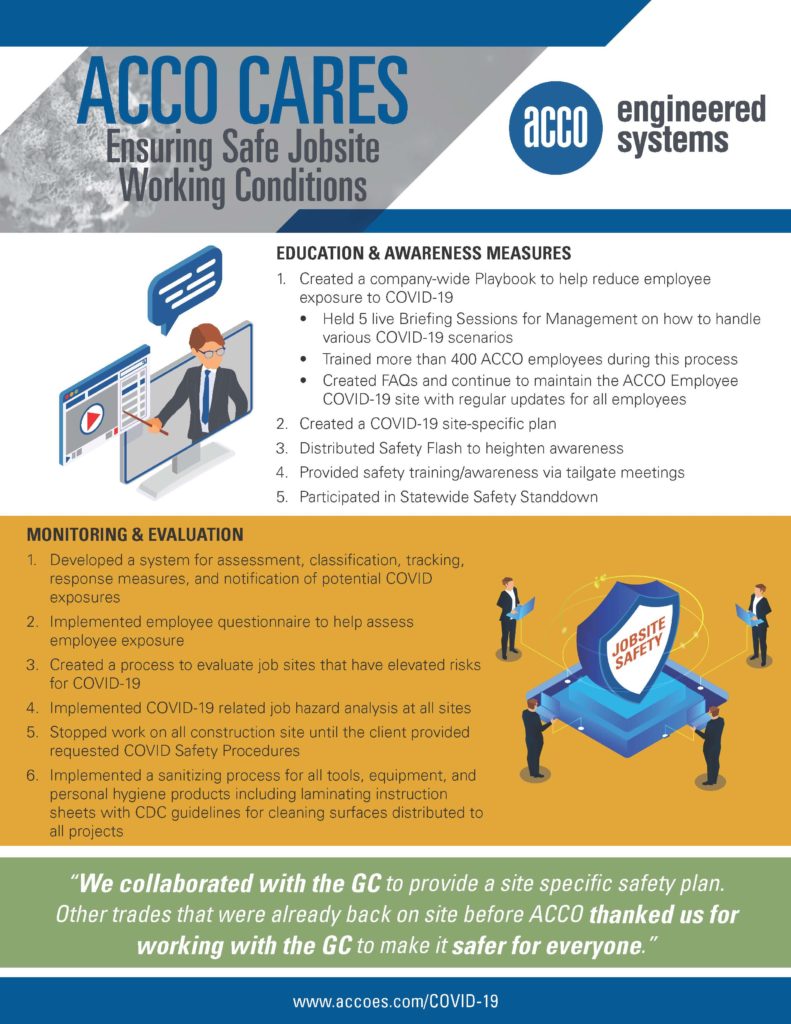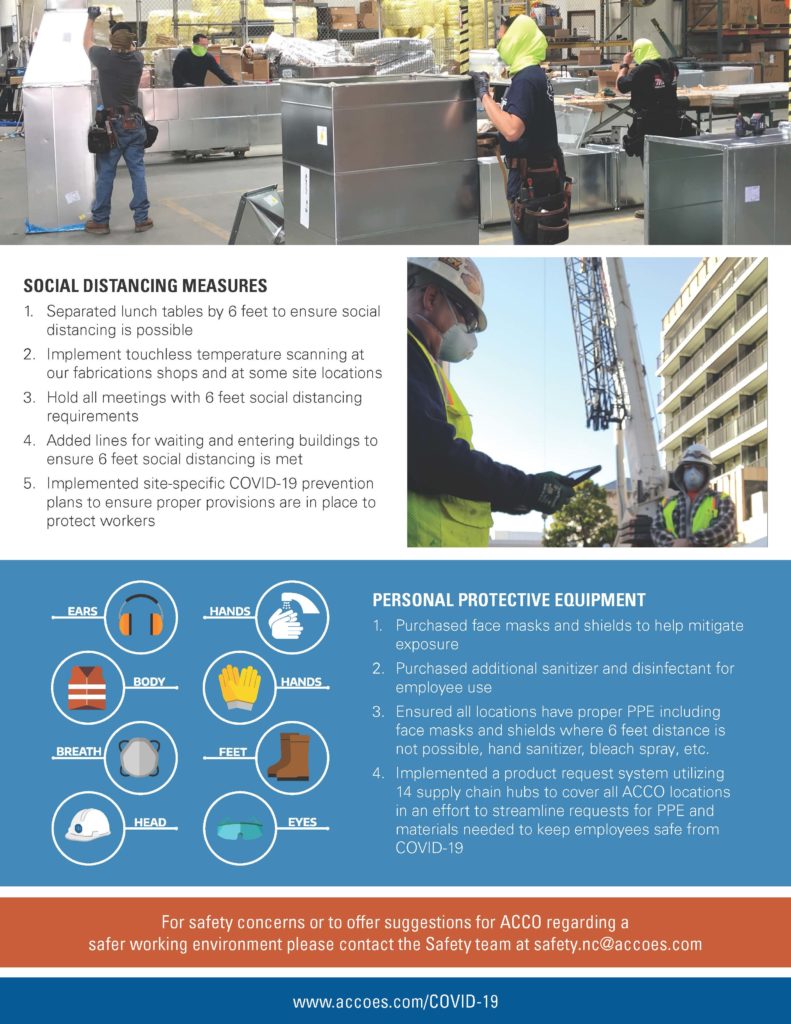 The following is our comprehensive FAQs that have been distributed to all ACCO employees, and will continue to be updated and distributed as we monitor the current situation.  We are sharing this in hopes that it might be helpful to others, as well.
Are we working in the offices?
We have currently increased the office capacity to be up to 75% for all offices. If you are interested to work in the office, please complete the return-to-office questionnaire here.
You will need to complete the Return to Office Acknowledgment form located here and load it into the questionnaire. You will receive a confirmation email when your return is approved.
EVERYDAY, upon your arrival to the office, you are required to check in using the QR code located at the entrance of the office to verify that you are symptom free. This also allows the Return-to-Office Supervisors to ensure we are not exceeding our designated capacity for each office location. If you leave the office prior to the end of your shift, we ask that you please check out as well.
Is it ok to carpool to a jobsite, shop or the office?
Riding in a car with someone outside of your household is considered a close-contact activity. If anyone in the vehicle has COVID-like symptoms all who are not vaccinated in the car will be asked to self-quarantine for up to 10 days if they are unvaccinated. To reduce everyone's risk of exposure, ACCO recommends traveling in your own vehicle and not sharing the ride. When this is not possible, or practical, all riders should wear a mask, sanitize their hands, ensure good in/out airflow, and follow all applicable guidelines.
If I am driving/riding in an ACCO vehicle, am I required to wear a mask?
Yes, if multiple people are in the vehicle, the driver and all riders must wear a mask and follow all applicable guidelines. There are no exceptions! Sole drivers (no passengers) may drive without wearing a mask.
If I telework and have been exposed, or may have been exposed, to someone with COVID-19, or I have symptoms, or test positive without symptoms, do I need to report this to the COVID-19 tracing system?
Yes. All such situations must be reported to the COVID-19 tracing system at www.accoes.com/accosupportportal. There are no exceptions.
Are managers required to report COVID-19 exposures they hear about even if the exposed employees do not report the situation?
Yes, it is everyone's responsibility to report positive cases, exposures, and likely exposures, in order to keep every ACCO team member, family member, and customers as safe as possible.
Are face coverings/masks considered a "barrier"?
No. Face coverings are not considered a barrier. Face coverings are required for all ACCO employees working at an ACCO site or with others. Physical distancing of 6 feet or more at all times is also required.
Does ACCO provide face masks?
ACCO provides face coverings. However, you may bring your own face covering if you find it more suitable.
Why do I have to quarantine if I have a negative test?
According to the Center for Disease Control (CDC), symptoms of COVID-19 can take as long as 14 days after exposure to emerge. By quarantining, you reduce the likelihood of exposing others to the virus, if you are a carrier.
Are COVID-19 Tests paid for by ACCO for field employees?
Yes, if required by work, the cost of COVID-19 testing is covered by the company.
Contact your health insurance carrier or county public health testing sites for information and availability of optional voluntary tests not required by ACCO.
Why was my co-worker cleared to return to work before I was?
Every case is different. ACCO follows the CDC guidelines in all cases. Exposure date and symptoms are just two of the factors considered when determining quarantine and release dates. For example, the CDC guidelines call for 10 days for positive cases starting on the date of the onset of symptoms or the date the test was taken if asymptomatic. For those exposed to a positive COVID-19 case, the guidelines call for 14 days after exposure since those exposed may develop COVID-19 up to 14 days afterwards.
My supervisor said I can come back to work, but I have not been cleared by the Safety Department yet. Why can't I return yet?
The Safety Department holds the responsibility to ensure that all ACCO employees are safe when working. They have special training and all protocols and practices have been researched. Our supervisors have many other responsibilities and are required to work with the Safety Department to ensure the safe return to work of employees asked to self-isolate or self-quarantine. Please contact the Safety Department or email LOA@accoes.com if you have questions about returning to work.
If I have mild allergy-like symptoms, is it ok for me to go to work?
If you are experiencing any symptoms, please do not go to work. You should submit a ticket in the COVID-19 Reporting System. A contact tracer and the Safety Department will contact you to determine the proper course of action.
OUTSIDE OF WORK
Our responsibility to look out for each other does not stop at the door or entrance to the job site. Please use discretion, masks and distancing protocols when not at work throughout the upcoming months.
ADDITIONAL "GOOD TO KNOWS"
We follow the CDC and County Health Department Guidelines
Definition of Close Contact – Someone who was within 6 feet of an infected person for a cumulative total of 15 minutes or more over a 24-hour period starting 2 days before illness onset (or, for asymptomatic people, 2 days prior to positive specimen collection) until the time the patient is isolated.