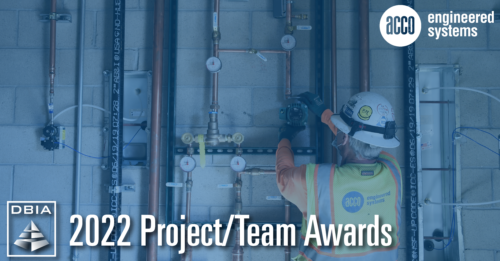 PASADENA, Calif., Oct. 24, 2022 –ACCO Engineered Systems is proud to announce that the Design-Build Institute of America (DBIA) recently awarded several ACCO projects at the 2022 National Design-Build Project/Team Awards.
Federal/State/County/Municipal Project: County of San Diego Youth Transition Campus (YTC), Phase 1
Owner: County of San Diego, Department of General Services
General Contractor: Balfour Beatty
Architect: DLR Group
During Phase 1 of the project, construction included new 128-bed housing facilities, a kitchen, a probation operations facility, and an education complex that replaced the existing Girl's Rehabilitation Facility and Camp Barrett Juvenile. The planned 140,000 square-foot campus will include additional facilities to support the needs of the youth. For this design-build project, ACCO delivered the HVAC, plumbing, and site utilities services.
Federal/State/County/Municipal Project: Department of General Services California Air Resources Board (CARB) – Mary D. Nichols Campus
Owner: Department of General Services
General Contractor: Hensel Phelps
Architect: ZGF Architects
The project consolidated CARB's existing locations throughout Los Angeles into a single location in Riverside, California. The 380,000 square-foot facility consists of test cells for testing vehicle emissions, a chemistry laboratory, and a workplace for testing new vehicles. It is also the largest true net zero energy facility of its type. ACCO served as the design-build mechanical contractor with Affiliated Engineers (AEI).
Industrial/Process/Research Facilities Project: Theragent CDMO Facility
Owner: Theragent, Inc.
General Contractor: DPR Construction
Architect: Lionakis
Located in Arcadia, California, the renovated warehouse manufactures cell and gene therapies for cancer patients. The facility consists of cleanrooms and support labs and rooms. ACCO performed the HVAC and plumbing scope and worked alongside AES Clean Technology for the cleanroom work.
Educational Facilities Project: University of California, Riverside Student Success Center
Owner: University of California, Riverside
General Contractor: Swinerton Builders
Architect: Gensler
Situated on a centralized location of the UCR campus, the state-of-the-art center offers a hub for students to study, learn, and socialize, with access to academic mentorship and tutoring services. The 60,000 square-foot facility includes classrooms, four large lecture halls, student lounge, group meeting and study rooms and a dinning services space. ACCO served as Mechanical Contractor partner with Mechanical Engineer, P2S Engineering, Inc. on the design-assist project.