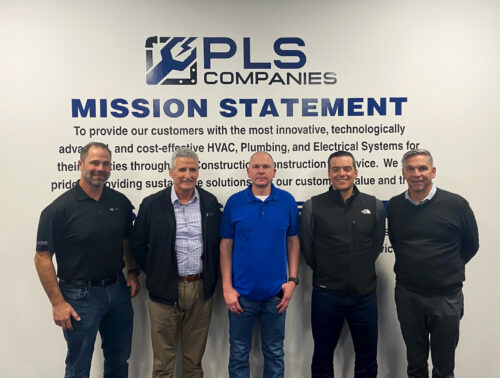 PASADENA, Calif., Jan. 12, 2023 – Earlier today, ACCO Engineered Systems, Inc. completed the acquisition of Pipe Line Specialties, Inc. doing business as PLS Mechanical, PLS Electrical and PLS Services. The PLS Companies are a top 10 Mechanical/Electrical/Plumbing contractor serving Colorado.
PLS will operate as a wholly owned subsidiary of ACCO and PLS customers will continue to be provided with unique comprehensive MEP solutions by this leading design-build specialty contracting team, but now with the resources of an industry leading parent company. By adding the proven capabilities of PLS, ACCO further strengthens its position as the largest mechanical contractor in the Western United States by expanding its broad capabilities in the design, construction, and service of commercial and industrial mechanical systems.
"Colorado has been on our radar for quite some time due to the health of the market and its forecasted growth in the coming years It was clear from the beginning that the PLS team was a natural fit for ACCO," said Kevin FitzGerald, Senior Vice President, ACCO Engineered Systems.
The partnership between ACCO and PLS began in 2019. From that beginning, the companies recognized their common business values and goals – providing excellent service and putting customers first. With this acquisition, ACCO and PLS each have a new platform for immediate growth.
"With the similarities of our respective company cultures and commitment to providing the best design-build solutions to our customers, I am confident that this is the best opportunity for PLS to achieve our future growth goals, and I look forward to seeing the additional impact we can have in Colorado by combining our two great companies," said Brian Clark, president, PLS Companies.
Since its inception in 2008, PLS has dedicated itself to providing unparalleled quality commercial and industrial MEP services in the Colorado construction industry. PLS's leadership team combines field experience with progressive installation knowledge, delivering unique value in this construction segment.
Since 1934, owners and builders have selected ACCO Engineered Systems to design, install, and maintain countless mechanical projects. ACCO is an employee-owned company dedicated to the design, fabrication, installation, maintenance and service of commercial and industrial HVAC, refrigeration, plumbing, process piping, electrical and building automation systems.